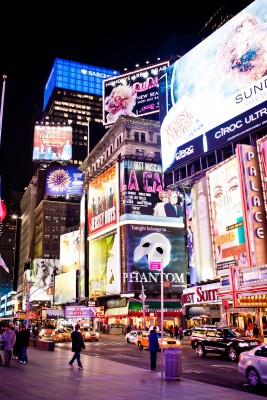 Why did she treat me so bad? How can she move on to the next guy so quickly? What does he have that I don't have? What if I'd only done this instead of that ? What if I'd said x instead of y? Did she ever really love me? She says she's never been as happy as she is with the new guy. Why couldn't she be happy with me?

Being in love with an abusive, high-conflict and/or personality disordered individual can do a real number on you. Whether you were together for 5 months or 25 years — it doesn't matter. An abusive partner can undermine your confidence, destroy your self-esteem, damage your career, damage your other relationships, and cause a host of other detrimental physical and emotional symptoms.
Many men are unable to move on after ending a relationship with an abusive woman. They ruminate, obsess, and replay the relationship over and over again in their minds, trying to make sense of what happened and what they could've done differently to live "happily ever after." If you are stuck in this painful place, you need understand one thing:
There is no happily ever after with a high-conflict, abusive personality disordered woman. The only happily ever after is if you get the hell away and stay the hell away from her and get on with your life.
If your abusive ex has cut you loose and moved onto her next target/unsuspecting victim, she has done you a huge favor. Here's one more thing you need to understand:
There is one caveat to this statement, but I'll get to that later.
Men and women who follow Shrink4Men frequently remark upon how similar the abusive behaviors described in the articles and comments are. Do you have a camera in my house? It's like you've written the story of my relationship! To me, these similarities are most likely indicative that there may be a personality disorder at play, because the similarities are so striking and uncanny.
It also means her crazy and abusive behaviors aren't personal.
It wasn't you. You didn't make her crazy. You didn't make her be abusive. You can't fix her or love her to health and wellness. Love does not conquer all and it certainly isn't the cure for narcissistic, sociopathic, histrionic and borderline behaviors and disorders.
I repeat, the abuse wasn't personal. You were just an object. A prop in the scripted reality psychodrama she has going on in her head, in which she's the long suffering victim/heroine and you're the piece of s—-, loser-villain. She is engaging in repetition compulsion. And, if you have a pattern of getting involved with Crazy, you're probably engaging in it, too.
If you're still having trouble understanding and/or accepting that your partner or ex is not going to magically transform and be wonderful with the next guy, hopefully, the following simile will help. Think of your wife, girlfriend or ex as a Broadway play — Crazy Bitch the Musical! Perhaps this comparison is puzzling to you. What does my ex have in common with a play?
There are shows that have been running on Broadway for decades. For example, West Side Story has been in and out of production since its premiere in 1957. The actress who played Maria in West Side Story 50 + years ago isn't the same actress on stage today.
Even though the actresses and actors have changed, the story and the story's ending haven't changed. The voices are different. The delivery is different, but it's the same song and dance every performance and the same ending; Tony dies and Maria cries.
Relationships with abusers are similar in this respect. Think of your abusive ex or current partner as Crazy Bitch the Musical! or The Ice Queen Cometh or Entitled! or I Love You, You're Perfect, Now Change. You're just another hopeful up-and-comer cast in the role of hero/rescuer/knight in shining armor/undeserving villain/screw-up/loser to her victim/waif/queen/I'm too good for you and you don't deserve me/"fiercely independent" diva. You get to have your turn on the boards and so will the next guy and the next guy and the next guy, but it's essentially the same damned script over and over again.
If your wife, girlfriend or ex was a Broadway play, it might go a little something like this:
Congratulations! You've been chosen to play the romantic male lead, Tom Dickenharry, to the female heroine, Mimi* Furst, in the stage production, Crazy Bitch the Musical!
Act One. Mimi Furst is the beautiful, fragile damsel in distress. Her dad was abusive. All of her boyfriends and husbands were abusive, but Tom Dickenharry is different. He's special.
No one has ever been so kind to Mimi. No one has ever treated her so well. She's never felt such a strong connection to a man before. She never went to bed so quickly with a man before (wink, wink, nudge, nudge). Tom is her true soul mate (as opposed to the 7 other soul mates she dated before him). Tom will show Mimi that not all men are jerks and he will treat her with such love and tenderness that she will learn to trust and love again.
Mimi and Tom embrace and share a passionate kiss as the stage lights dim and the curtains close.
Act Two. Mimi Furst and Tom Dickenharry get married after a 6-month whirlwind courtship and welcome their first child into the world 9 months later, Goldie Furst-Dickenharry of the Golden Uterus matriarchal line.
Alas, Mimi's love begins to turn into contempt. Nothing Tom does is right. He works too much, but doesn't earn enough money to support Mimi's spending. Mimi refuses to get a job to help with the finances even though Goldie is enrolled in school full-time. Mimi reminds Tom he pwomised to take care of her and protect her from having to deal with reality and adult responsibilities.
In a futile effort to win back Mimi's love and adoration, Tom buys a house he can't afford. He buys her a blinged out SUV even though they live in Miami where it doesn't snow and Mimi only travels 1.6 miles to Goldie's school and the mall. Tom works longer hours and takes care of Goldie when he comes home at night and the household chores because he has no idea how hard it is being a stay at home mom.
Mimi claims Tom doesn't love her and accuses him of having affairs when he gets caught in traffic and arrives home 10 minutes late from work. The harder Tom tries to make Mimi happy and prove his love, the more unappreciative and cruel Mimi becomes.
Act Three. While Tom is fixing Mimi's computer, a message alert pops up. Tom recognizes the name and his heart sinks. He discovers that Mimi's been communicating on Facebook with ex-soul mate and abusive jerk #1, Joey Suckah. Tom reads messages from Mimi to Joey in which she describes Tom as abusive, cruel, lousy in bed, uncaring, cheap, and a terrible father. Mimi writes that she never stopped loving Joey Suckah and that it is his touch and his touch alone that makes her feel alive and if only there was a way for them to be together.
Heartbroken, sad and angry, Tom confronts Mimi about her affair with Joey. Instead of responding with remorse and contrition, Mimi erupts. She lashes out at Tom.
Who does he think he is?! How DARE he read her private emails?! Mimi accuses Tom of being a paranoid, disgusting, perverted creep who has trust issues. How DARE Tom violate her privacy!?It's Tom's fault Mimi had to turn to another man. Mimi screams she will never be able to trust Tom again for finding out about her extramarital affair.
Tom reminds Mimi of all the horrible things she told him about Joey Suckah when they first met and fell in love. Mimi snarls in rage that she never said any such thing about Joey and that Tom is making it all up. She exclaims Joey is a real man and if Tom doesn't watch his mouth, she will take HER daughter and leave him and he will never see Goldie again.
Tom begs. Tom pleads. Tom apologizes to Mimi for being angry she is having an affair. He promises to work harder to give Mimi "the lifestyle she deserves." He promises he'll go to therapy to fix his trust issues. He promises her the world, if only they can go back to the way things were. Mimi smirks and says nothing. End scene.
Three days later, Tom arrives home from work to see a police car in his driveway. The officers tell him he is to collect his personal belongings and that he needs to find another place to stay. You see, while Tom was at work earning money to provide for Mimi and Goldie, Mimi went to the courthouse and obtained an emergency protective order because she is "afraid" — even though Tom has never been violent toward Mimi nor has he ever threatened violence. The police tell Tom he cannot be anywhere near Mimi or Goldie and recommend that he get an attorney. Dim lights on Tom and police.
Stage lights on Mimi and Joey Suckah sharing a romantic dinner. Mimi tells Joey that her dad abused her. All of her boyfriends and husbands have been abusive, but Joey Suckah, aka the new Tom Dickenharry, is different. He's special.
Rinse. Wash. Repeat. The End.
Mimi may not marry or have a child with the new Tom Dickenharry, but her script will play out until she is once again "the victim" and her new Mr. Wonderful is Mr. Jerk. There are different variations to this tale depending upon the individual Crazy script, but it is a script. This kind of individual casts you into a role that has nothing to do with who you are in reality. You will be force fit into the role of villain once you're in love and securely attached. It's only a matter of time.
The only way this script changes is if this kind of woman becomes involved with another abuser. Then she really will be victimized instead of play acting the role of victim. Did your rescuer impulses just switch on while reading the previous sentence? If so, put your noble steed back in its stall and lower your lance.
There's nothing an abusive professional victim loves more than being victimized. Do not try to rescue her from a real abuser.
Instead, let the two of them cannibalize each other, stay out of it and get on with your life. If you share a child, gather evidence to show the court that the mother is endangering the child by exposing him or her to an abusive environment. But whatever you do, do not get in between the two loons and their "love."
* Thank you to whenthescapegoatquits for the double entendre, "Mimi" (me me), the perfect name for a female narcissist.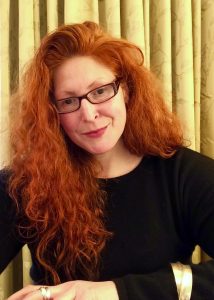 Counseling with Dr. Tara J. Palmatier, PsyD
Dr. Tara J. Palmatier, PsyD helps individuals work through their relationship and codependency issues via telephone or Skype. She specializes in helping men and women trying to break free of an abusive relationship, cope with the stress of an abusive relationship or heal from an abusive relationship. Coaching individuals through high-conflict divorce and custody cases is also an area of expertise. She combines practical advice, emotional support and goal-oriented outcomes. Please visit the Schedule a Session page for more information.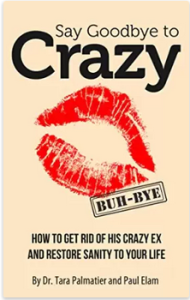 Want to Say Goodbye to Crazy? Buy it HERE.