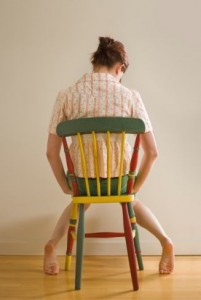 Have you ever wondered why your abusive wife, girlfriend or ex blames others, makes excuses or rages when you question her behavior? Does she often act like an out of control child? Does arguing with her seem like a losing battle? Does she have a comeback for everything you say that pushes your buttons? When she's angry, does she say "not fair" and that nothing's her fault? Does it feel like she sets traps for you during arguments? Have you ever wished you could put her in a timeout chair just like you would a toddler?
Believe it or not, several of these questions are adapted from a parenting article, Child outbursts: Why kids blame, make excuses and fight when you challenge their behavior, by James Lehman, MSW on EmpoweringParents.com. Men who are in relationships with abusive women often say that they feel like they're dealing with a child in an adult's body in regards to their wife, girlfriend or ex.
This is especially true if she has a Cluster B personality disorder or traits (Histrionic Personality Disorder, Borderline Personality Disorder, Narcissistic Personality Disorder and Antisocial Personality Disorder). Not all, but many individuals with these diagnoses or traits are developmentally arrested at an emotionally immature age. They are emotional toddlers in adult bodies.
Children often blame others when an adult tries to hold them responsible for their behaviors. This is a natural behavior in children and it's a parents' job to teach their children how to hold themselves accountable and face the consequences of their actions, so they can become responsible, functioning adults. If this developmental milestone isn't reached in childhood, it creates a lot of stress and dysfunction in adulthood. One of my clients states that he clearly sees his 6-year old daughter growing out of this phase with his guidance; he wishes he could say the same for his 36-year old wife.
Professional Victimhood Starts Early in Life
"Very often children see themselves as the victim, no matter how aggressive or abusive their behavior is. Thinking of themselves this way gives them the ability, in their mind, not to take any responsibility—and if you don't take responsibility, then you won't have to change" (Lehman, EmpoweringParents). This victim mentality is the result of immature and distorted reasoning or thinking errors in troubled children and adults. Thinking errors allow this kind of woman to blame others for her own behavior, not take responsibility for her actions and not make positive changes. Her distorted reasoning allows her to avoid thinking about how she hurts others.
Children and women with these issues view any questioning of their behavior, no matter how gentle and well-phrased, as an attack. Lehman recommends that parents who identify these behaviors in their children break the pattern by challenging their distorted thinking, setting boundaries and enforcing consequences. Great advice. As a parent you can make rules, enforce them and model good problem-solving skills. But what do you do when it's your wife or girlfriend who is acting out aggressively and abusively? What do you do when she attacks you even harder when you try to discuss this topic with her?
You can't ground your wife or take away her car keys or credit card. Well, you could, but then she'd claim you're trying to control and abuse her, so what do you do? Disengage, detach, don't step into her traps and avoid power struggles. Easier said then done, of course.
Her Problem-Solving Skills Are the Problem
This type of individual has dysfunctional problem-solving skills. Instead of holding herself accountable for her bad behavior and making positive changes, she tries to solve problems by shifting blame, making excuses, verbally attacking others, vilifying others and fighting or fleeing. In her reality, these are problem-solving techniques. To a rational adult, these behaviors create the majority of the problems and conflicts in a relationship.
There is usually a sequence to how these maladaptive problem-solving behaviors play out. For example, you confront your girlfriend with something hurtful she's done like being rude to your family. She begins with, "I only acted like that because I know your family hates me. I wouldn't say those things if they were nicer to me." Translation: "I already explained it's your family's fault. Why are you bothering me?"
If you persist, she adds some force and venom by becoming verbally abusive, "You're not being fair. You always blame me when things go wrong with your family. Your family's a bunch of liars. They always give me dirty looks. They hate me. You never stick up for me. You're such a #!%@*!" Essentially, this is a warning: "Agree with me or face my abusive acting out." She uses aggression and intimidation to get you to back down and leave her alone, which has probably been a highly effective technique for her since childhood.
If you continue to persist, she may then escalate to the fight or flight response because she perceives any criticism as life threatening: "I can't talk with you about this. [Breaks dishes, slams door.] Screw you, I'm leaving." This response occurs because she's run out of coping mechanisms. She hurts others, breaks things and/or withdraws in a misguided attempt to problem solve. These are highly maladaptive and abusive behaviors. They don't resolve problems; they make problems worse.
These behaviors and distorted beliefs are indications of "[her] inability to communicate, [her] inability to solve problems and [her] world view that [she's] a victim and 'it's not fair.' If things aren't fair, then the rules about cursing at people or breaking things don't apply to [her], because it's not [her] fault. And that lets [her] off the hook. These kids [and women] have a way of thinking that justifies violating other people's boundaries and that sees them as a victim of everything. When you try to interfere with or challenge that kind of thinking, these kids [and women] will get more upset, threatening or destructive" (Lehman, EmpoweringParents).
It's a parent's job to challenge their children's distorted beliefs and hold kids accountable for their behaviors. However, as a husband or a boyfriend it is not your job to re-parent your wife or girlfriend. Even if you wanted to do so, it's highly unlikely she'll allow you to hold her accountable. Most mental health professionals are unable to do this. Teaching skills like personal accountability and empathy to children at the appropriate developmental ages is often very challenging. Teaching these skills to adults is extremely difficult, if not impossible. First she has to recognize that she's a big part of the problem and give up her victim mentality. If she won't or can't do this, then she will continue to blame the world and you and never become an adult. These behaviors are barely tolerable in children; in adults they're far worse.
If only you could put these, eh-hem, adults into timeout. However, there's no reason why you can't give yourself a timeout as an optimal mental health break.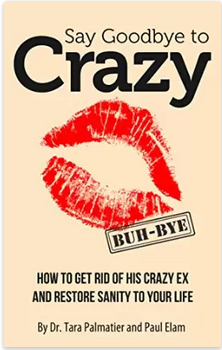 Want to Say Goodbye to Crazy? Buy it HERE.
Shrink4Men Coaching and Consulting Services:
Dr Tara J. Palmatier provides confidential, fee-for-service, consultation/coaching services to help both men and women work through their relationship issues via telephone and/or Skype chat. Her practice combines practical advice, support, reality testing and goal-oriented outcomes. Please visit the Shrink4Men Services page for professional inquiries.
Save